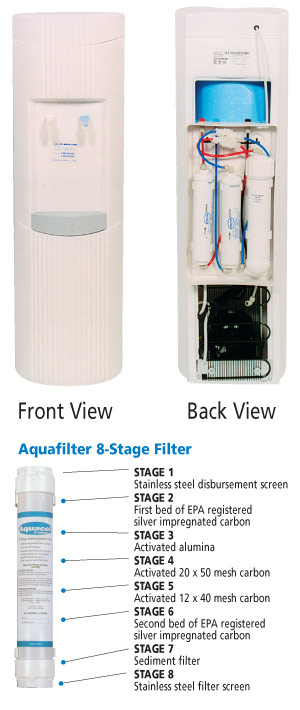 Glacier Springs Patented Self-Filling Water Cooler
Eliminates the high cost of bottled water
Self filling reservoir – never runs out of Purified Water
1.5 gallon reservoir
No more lifting of those heavy water bottles
Eliminates those monthly water bills that will last FOREVER
Costs only pennies per gallon
Ideal for home or office
Easily plumbed into any water line
Guaranteed to be as good or better than most bottled water
Better tasting coffee, tea, juices, soups, etc…
State of the art technology – reverse osmosis and activated carbon
R0 18 (produces approx. 2-3 gallons in 24 hours)
Can be removed and installed elsewhere
Easily expanded – can be connected to coffee makers
Healthier for all employees and clients
No annual increase in price of water – you always know what your water bill is going to be
Healthier plants and pets
Ultra-violet disinfection (optional)
Why not use your own water? You are already paying for it!
Warranty:
All Glacier Springs Residential Models come with a 4 year limited warranty.
For more information on how the Glacier Springs Water Cooler will provide you with Purified Water and save you money contact us today!