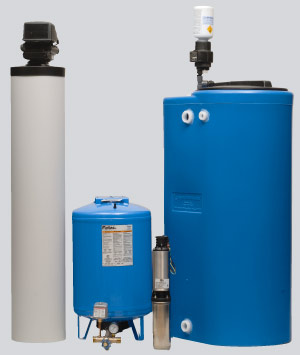 Functions:
Raw water from either wells, dugouts, lakes or rivers is fed into a properly sized unpressurized retention tank. The well-pro dry pellet chlorinator which is installed on the top of the retention tank automatically feeds dry chlorine pellets at a programmed rate into the agitation chamber which is located inside the retention tank. The chlorine will kill bacteria such as coliform and E.coli. The chlorine will also oxidize iron, manganese and will eliminate the hydrogen sulphide gas (rotten egg odor). The water is then repressurized and then fed into a properly sized multi-media filter which is designed to remove all of the oxidized iron, oxidized manganese, odor and chlorine residual. The retention tank is designed to settle out as much of the oxidized iron and manganese as possible before entering the filter. Periodic flushing of the retention tank will extend the lifespan of the filter and provide excellent water quality. The inline system uses the same technology as major cities throughout North America.
System Includes:
90 Gallon Retention Tank
Well-Pro Dry Pellet Chlorinator
1/2 H.P. Repressure Pump
7 Gallon Draw Down Pressure Tank
10/54 Fully Automatic Multi-Media Filter
By-Pass Valve
Chlorine Test Kit
Chlorine Testing Valve
Overflow Drainage Kit
10.5 lbs. Well-Pro Chlorine Pellets
Plumbing & Electrical Fittings
Eliminates:
Iron – Iron Staining – Rotten Egg Odor – Bad Taste
Algae – Coliform Bacteria – E-coli Bacteria – Slime
Manganese (Black Slime)
Note:
Commercial systems and prices available upon request.